The Anti-flooding Barrier with an Innovative Design!
CLICK  RAPID is a patented high performance barrier.
The research in materials, the care in manufacturing and the attention to the aesthetic aspect make the CLICK RAPID barrier extremely pleasant, without renouncing to reliability and resistance.
The ideal barrier for protecting doors, commercial activities and all kinds of accesses.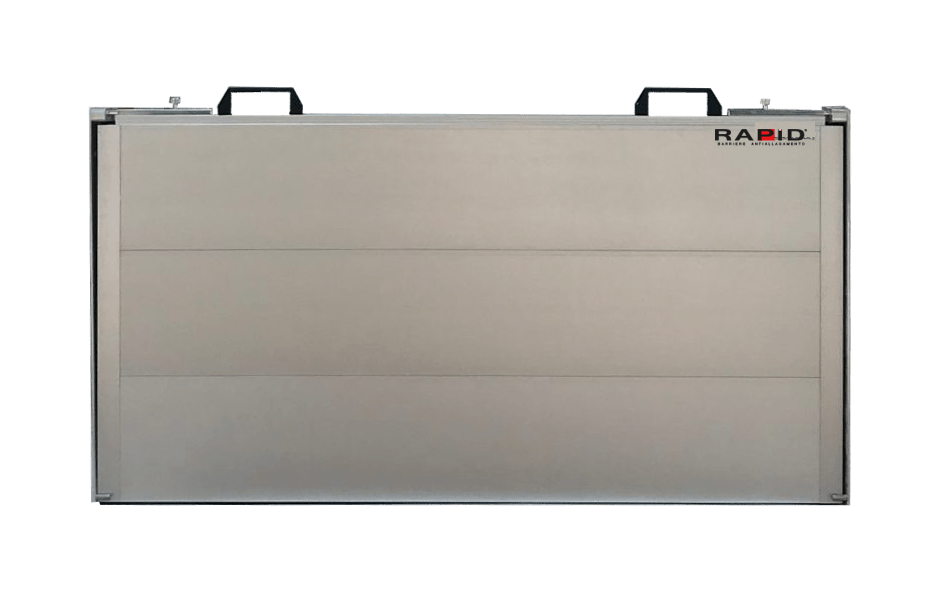 Width:  Available at 4.9 meters in a single panel

Height: Modular up to 1.4 meters
Material: Anodized Aluminum

Seals: Low aging elastomer
Thanks to its innovative clik Block system, with a single movement, the RAPID barrier comes under pressure and positions itself in a few seconds.
It is supplied as standard with lateral hydraulic thrust-tightness and attachment profiles, which guarantee an excellent seal and allow any irregularities in the compartment to be adjusted.
Manufactured from lightweight materials, the special corner fixing profiles act as a hydraulic thrust seal, allowing the barrier to be raised by just 3 cm to position it in its housing.
The Click Rapid Flood Barrier can be quickly fitted between two protruding frames in the compartment, either indoors or outdoors, and requires very little space.
The click block system keeps it firmly in place, vertically, even in case of rough water, swirls or flows.
The CLICK RAPID barrier is made of anodised aluminium and its smooth surface is easy to clean after use.
Who said that a flood protection device cannot also be an elegant design object?
The Rapid flood barrier have a simple, elegant and functional design.
To satisfy the most demanding architects and customers, the Pellegrino Brevetti team has developed unique innovative solutions. The side profiles can be coloured to hide the bulkhead retention mechanisms or transformed into elegant decorative frames with the possibility of LED lighting.
In addition, you can add a touch of elegance to your CLICK RAPID BARRIER by painting it in RAL colours, or customising it by adding a photographic film to the bulkhead itself, reproducing an image of what remains behind, a graphic or a company logo.
The use of the CLICK RAPID Flood Barrier limits the damage caused by flooding in: